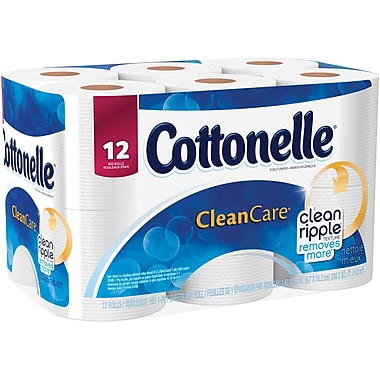 This offer is BACK! AND you can also submit your package receipt on Checkout 51 and get back $0.55.
Staples has Cottonelle 12 packs on sale for $3.99 (retail $10.99) this week. I picked up mine (5 12-packs) for $21.55 after taxes. That makes these $0.36/roll. Not a bad price at all for quality toilet paper.
Since I am a staples rewards member, I get free shipping right to my door on orders $14.99 and over. (This is easy to sign up for before you order online) Or you can, if you lucky cause most stores are sold out, have it pick up in store.
How to Get Shipped to Store:
Add Desired Quantity of Product to Cart
Check out
In Cart above product shows your store location
Change store to your location if needed
Choose Ship to Store option in blue
Check out
Pick Up when ready
See the Other GREAT Staples Deals!
Don't forget your 2% cash back from ebates like I did (used my phone and not my laptop).
*Thanks Brittany Freeman for sharing!!